We're sorry, something doesn't seem to be working properly.
Please try refreshing the page. If that doesn't work, please contact us so we can address the problem.
Impact of linear correlation on construction project performance using stochastic linear scheduling
Visualization in Engineering
2017
5:8
Received: 15 December 2016
Accepted: 16 April 2017
Published: 27 April 2017
Abstract
Background
In the construction industry, the productivity of all trades is directly impacted by uncertainty and variability. For repetitive projects, smooth work flow of productive resources is necessary to minimize or eliminate interruptions and idle time with the objective of reducing costs. An ideal or near optimal solution requires careful planning of the sequence, timing and resource allocations for each activity. Earlier research has demonstrated that uncertainty in the duration of repeated activities can have a significant impact on what is determined to be the optimum project plan. This suggests that correlation in the duration of repeated activities (where durations are stochastic) may also be important in determining the most favorable plan.
Methods
This study assesses the significance of correlation in this respect, using a Linear Scheduling framework for modeling repetitive construction work. Numerical and graphical results are used in a case study to evaluate and compare the optimal solution derived for both deterministic and stochastic environments. For the stochastic environment, a range of levels of correlation are considered using linear correlation between immediate successor repetitions of an activity.
Results
The results provide insight into the effects of different degrees of correlation on the expected project duration, cost, crew and equipment idle times and interruptions. The correlation level has effects that translate into performance tradeoffs depending on the initial plan assumptions applied to the activities.
Conclusions
The impact of full correlation on the optimality of a project plan was found, on average, to introduce idle time to crews equal to 7% of their active time, and to cause avoidable delays to the completion of a project equal to 12% of the project duration. The authors believe these inefficiencies justify further investigation of the impact of correlation on construction projects, including the development of more sophisticated models of correlation.
Keywords
Project planningStochastic linear schedulingLinear correlationRepetitive construction workRisk management
Background
Many of the activities performed in construction are repetitive in nature. Activity repetition is most prevalent at a low level in a work breakdown, such as the cycling of equipment in an earthmoving operation or the laying of bricks, but it is also common at intermediate and high levels, such as the laying of utility lines or the construction of many similar floors in a high-rise building. Repetitive activities can be either discrete or continuous processes but most planning tools are limited to one or other perspective. The critical path method (CPM), for example, treats all activities as discrete units - this is convenient for activities that are inherently discrete, but activities that are continuous in nature (such as the operation of a tunnel boring machine) must be converted into a series of discrete units of work.
Planning projects where there is significant repetition of activities becomes challenging using traditional activity network methods (such as CPM) because of the difficulty of ensuring continuity in resource utilization (Harris and Ioannou 1998) and the consequently large number of activities and dependencies that must be defined and maintained. As a result, alternative planning methodologies have been considered in construction such as the Linear Scheduling Method (LSM) which represents work as discrete-continuous activities plotted across space and time. LSM provides a visually insightful framework for representing activity progress and understanding how interactions between activities impact that progress.
Regardless of the planning methodology adopted, modeling repetitive activities requires careful attention to ensure accuracy since a small error in the estimate of a single repetition translates to a large error over many repetitions. Moreover, effects such as learning and forgetting (Gates and Scarpa, 1972) in repetitive activities can be dramatic and if not properly addressed can lead to significant errors in the estimation of project performance. Uncertainty in activity performance must also be taken into account since it can significantly impact the accuracy of project performance estimates. Ignoring uncertainty (using a deterministic analysis) leads to optimistic estimates of project performance for concurrent interacting processes, the so-called fallacy of averages. The PERT method is a relatively popular tool used for modeling uncertainty in construction schedules, but it only considers uncertainty along the deterministically derived critical path and therefore underestimates both project uncertainty and project duration. Consequently, the PERT method, while simple to use, is only suitable for projects that have a dominant critical path with a low probability of other paths becoming critical. Indeed, interactions between construction processes are usually sufficiently complicated that stochastic effects can only be modeled accurately using statistical sampling techniques, the most popular of which being the Monte Carlo method.
Recent years have seen an interest in developing optimization and satisficing methods for planning repetitive construction work. Ioannou and Srisuwanrat (2006, 2007, 2007a, 2007b) proposed and evaluated a technique for planning a smooth work flow for productive resources operating in conditions of uncertainty, set within a linear scheduling (LSM) framework.
Trofin (2004) and Flood et al. (2004) implemented a Monte Carlo analysis using the LSM framework to assess the impact of uncertainty on project duration, and activity idle time. It was shown that increasing the level of uncertainty not only increased the expected project duration but also changed the optimal schedule.
Rachmat et al. (2009) investigated stochastic simulation on repetitive projects to incorporate activity performance uncertainty in look-ahead scheduling. A case study was undertaken for the construction of a pipeline, where real data were collected in the field, fitted to a statistical distribution, and processed by a simulation package that took into account uncertainty using Monte Carlo sampling. The output from these models was a variable production rate linear schedule of all the activities that comprised the project. In this analysis it was concluded that including uncertainty on linear schedules improves the forecasting capability of project performance and thus helps a scheduler anticipate problem areas and formulate new plans that improve project performance.
Processes that are naturally stochastic can also demonstrate correlation between the duration of repeated activities. Positive correlation means that if one activity (or repetition of an activity) takes longer than expected then the correlated activities (or repetitions of that activity) are also more likely to also take longer, and vice versa. Work on correlation between construction activities (repeated or otherwise) is minimal, but it is easy to demonstrate that positive correlation affects the statistical performance of a project by increasing kurtosis, meaning that more of the variance in the performance of a project results from occasional larger deviations as opposed to more frequent smaller deviations. An outstanding question, however, is whether the effects of correlation significantly impact the optimality of a plan. This paper reports on ongoing research into this question. It introduces the questions being investigated and their rationale, the proposed approach to resolving them, and the results from a series of experiments designed to assess the potential impact of correlation on project plan optimality. If correlation is found to impact plan optimality, then this will justify further work into the development and validation of more accurate models of correlation.
The paper provides a review of the concept of activity correlation in Activity correlation section. This is followed by a description of the modeling approach adopted in this study (Modeling approach section), and the experimental plan (Research plan section). The results and their analysis are then presented in Results and Discussion section, followed by a summary of the conclusions and recommendations for future work in the final section.
Results and Discussion
The results of the experiments described above indicated that lower levels of correlation, between 0.00 and 0.80, did not show a significant impact on either Crew Idle Time or Missed Opportunities. However, for higher levels of correlation both variables were found to increase geometrically. Therefore, an additional 1000 LSM scenarios were generated for each level of correlation ranging from k = 0.80 to 1.00 in increments of 0.025, to provide a higher resolution in the results for the region where performance was found to change most dramatically.
Figure
10
shows the results of these experiments for
Crew Idle Time
. The first graph shows how the mean
Crew Idle Time
changes with respect to the level of correlation, for k = 0.0 to 1.0. Note, for values of k greater than 0.8 the resolution of the plot has been expanded from increments of 0.1 to 0.025. This was done since most impact on idle time occurs for values of k greater than 0.8. The second graph in the figure plots the frequency of occurrence of different
Crew Idle Times
for different levels of correlation, k. The performance of the project was most severely impacted when correlation was perfect (k = 1.0), in which case the
Crew Ide Time
was found to be on average approximately 7% of the total time the crews were active. This would equate to an additional 7% in the direct cost of the crews (excluding mobilization costs) and so is considered to be significant.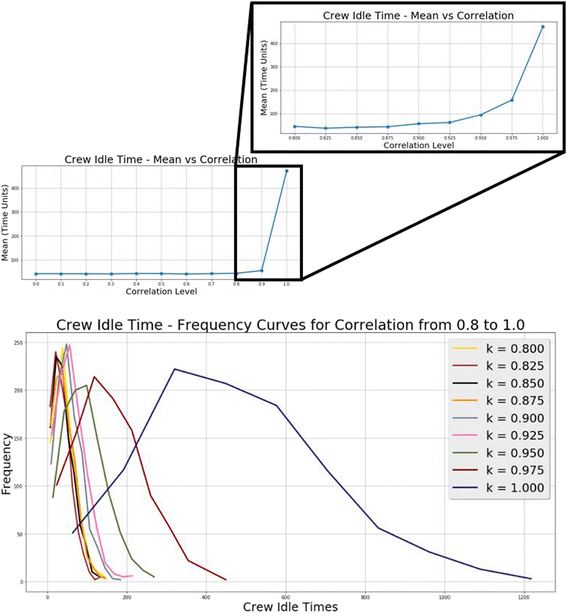 Figure
11
shows the same graphs as Fig.
10
but for
Missed Opportunities
. The same geometric increase in this objective variable is apparent for high levels of correlation. For perfect correlation, k = 1.0, the
Missed Opportunities
were approximately 12% of the optimum base plan's project duration.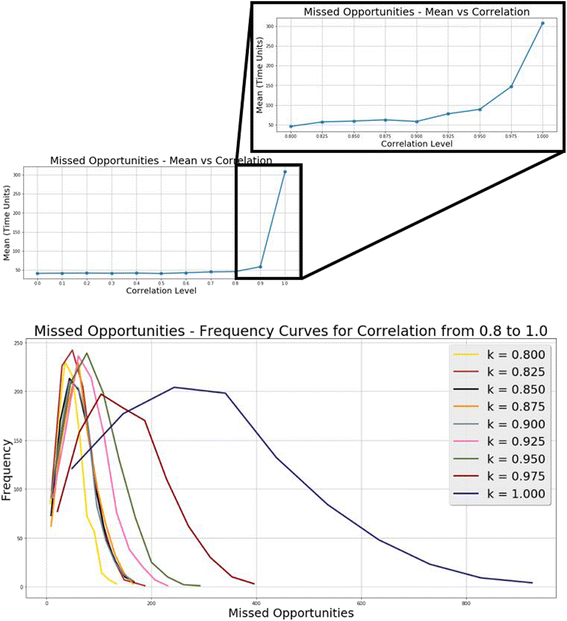 The
Crew Idle Time
and the
Missed Opportunities
data were assessed in a single sample
t
-test to determine the statistical margin of standard error of the sample mean. Each level of correlation was tested independently using a confidence level of 95%. Table
1
shows the results of this test for different correlation levels. For
Crew Idle Time
the average margin of error from the sample mean for all the correlation levels was 3.7%. Similarly, for
Missed Opportunities
the average margin of error from the sample mean for all the correlation levels was 3.61%. Given that these margins of error are all below 5% at the 95% confidence level, the sample size of 1000 LSM test scenarios was considered sufficiently large.
Table 1
Experimental margin of error for each correlation level
| Correlation Level (k) | 0.0 | 0.1 | 0.2 | 0.3 | 0.4 | 0.5 | 0.6 | 0.7 | 0.8 | 0.9 | 1.0 |
| --- | --- | --- | --- | --- | --- | --- | --- | --- | --- | --- | --- |
| Error - Crew Idle Time % | 3.74 | 3.69 | 3.81 | 3.82 | 3.73 | 3.80 | 3.75 | 3.76 | 3.92 | 3.64 | 3.06 |
| Error - Missed Opportunities % | 3.76 | 3.62 | 3.73 | 3.65 | 3.58 | 3.74 | 3.67 | 3.47 | 3.32 | 3.45 | 3.73 |
Conclusion
The impact of correlation between activities on the performance of construction projects is not well understood. Moreover, existing models of correlation are limited in sophistication and largely untested in terms of their accuracy. Before investing resources in the development of more appropriate models of correlation for construction it was decided to first test whether correlation may affect project performance significantly. Specifically, this study had the goal of determining whether the optimality of a project plan is prone to disruption by unaccounted correlation. Project performance was assessed in terms of two optimality indicators: Crew Idle Time and project Missed Opportunities. The results showed that both performance indicators are significantly impacted if the level of correlation is high (between k = 0.8 and k = 1.0), in the worst case having an expected crew idle time of 7% of crew active time and an expected extension to the project duration of 12%. These results are applicable to problems that fall within the scope of this study.
These results provide justification for investing resources in developing our understanding of how correlation can best be modeled in construction. These studies would, in part, be aimed at extending the study beyond the limitations listed in Scope of study section. For example, studies are required to determine whether correlation between the durations of construction activities should use linear or non-linear relationships, and whether correlation between repetitions of an activity is best modeled as a dependence between immediate repetitions or between the first and current repetition. Future research must also include real-world data from a comprehensive range of construction project types.
Alternative indicators for project optimality should also be considered. In particular, there is a need to determine the extent to which the Crew Idle Time and Missed Opportunities could be reduced if an accurate assessment of the level of correlation was available and used to determine the optimal plan - the question is not straightforward as the systems performance is subject to stochastic variance. Finally, work is required to determine how different levels of uncertainty in the duration of an activity affects the relationship between the level of correlation and plan optimality.
Declarations
Acknowledgements
No acknowledgement section contained within the document.
Funding
This paper is part of an invitation from 2016 ICCCBE from Visualization in Engineering. No funding was required for this submission as it was waived by the journal.
Authors' contributions
IF: conceived of the study, participated in its design and coordination and the final draft arrangements of the manuscript. REP conceived of the study, participated in its design and interpretation of the data (statistical analysis) and drafted of the manuscript. Both authors read and approved the final manuscript.
Competing interests
The authors declare that they have no competing interests.
Publisher's Note
Springer Nature remains neutral with regard to jurisdictional claims in published maps and institutional affiliations.
Open AccessThis article is distributed under the terms of the Creative Commons Attribution 4.0 International License (http://creativecommons.org/licenses/by/4.0/), which permits unrestricted use, distribution, and reproduction in any medium, provided you give appropriate credit to the original author(s) and the source, provide a link to the Creative Commons license, and indicate if changes were made.
Authors' Affiliations
(1)
College of Design, Construction and Planning, University of Florida, Gainesville, USA