Integrating building information modeling and virtual reality development engines for building indoor lighting design
Visualization in Engineering
2017
5:19
Received: 18 May 2017
Accepted: 11 October 2017
Published: 23 October 2017
Abstract
Background
Lighting simulation tools are extending the functionality of Building Information Modeling (BIM) authoring software applications to support the lighting design analysis of buildings. Although such tools enable quantitative and qualitative analysis and visualization of indoor lighting, they do not provide an interactive environment between users and the design context. Moreover, their visualization environments do not allow users to experience visual phenomena such as glare. In addition, lighting energy consumption generated from traditional tools is often separated from the 3D virtual context of the building. Therefore, an incorrect interpretation by designers regarding the relationship between their desirable lighting design and energy feedback may occur.
Methods
This research proposes a method and develops a BIM-based lighting design feedback (BLDF) prototype system for realistic visualization of lighting condition and the calculation of energy consumption.
Results
The results of a case study revealed that BLDF supports design stakeholders to better perceive and optimize lighting conditions in order to achieve a higher degree of satisfaction in terms of lighting design and energy savings for future occupants.
Conclusions
The developed system utilizes an interactive and immersive virtual reality (VR) environment to simulate daylighting and the illumination of artificial lights in buildings and visualizes realistic VR scenes using head mounted displays (HMD). BLDF allows users to interact with design objects, to change them, and to compare multiple design scenarios, and provides real-time lighting quality and energy consumption feedback.
Keywords
Building Information Modeling (BIM)Serious game simulationIndoor lighting designDesign feedbackVirtual reality (VR)Lighting design optimizationEnergy feedback
Background
Lighting design relies on a combination of scientific, aesthetic, and human factors (Benya et al., 2001). The following determinants are amongst the factors that need to be considered in lighting design: daylight availability, aesthetics, lighting quality, and efficiency of lighting. Benya et al. (Benya et al., 2001) stated that lighting design primarily affects energy efficiency and lighting quality. The World Energy Council (World Energy Resources 2013 Survey, 2016) estimated that buildings account for nearly 40% of the total global energy consumption. A major proportion of the total energy demand for buildings is electricity for lighting. For example, lighting consumes approximately 16.7% of commercial building energy in the U.S. (Book, 2016), 20 to 40% in large office buildings in China (Zhou et al., 2015), and 40% in commercial buildings in Japan (The Energy Conservation Center Japan, 2010). A reduction in lighting energy consumption can make a substantial contribution toward lowering the energy demand for buildings.
The use of Building Information Modeling (BIM)-based computer simulation tools is growing rapidly, and such tools assist designers in making better decisions to reduce energy consumption and to create better lighting conditions for occupants. Several existing commercial simulation tools that are compatible with BIM have been widely used in visualizing, identifying, and examining indoor lighting performance as well as simulating lighting energy consumption. Conventional simulated outputs often comprise quantitative and qualitative data, and the visualization features are based primarily on static two-dimensional (2D) images. Energy consumption outputs are usually generated as numerical data and presented as complex graphs, documents, and/or tables (Sarhan & Rutherford, 2009; Hailemariam et al., 2010), which are separate from the visual context of the building (Hailemariam et al., 2010). Such numerical data are used by experts who are experienced in interpreting such data. However, this creates a barrier for collaboration between design teams and clients who are not familiar with interpreting numerical results, and this prevents the parties from understanding the energy requirements of different design options.
Some BIM-based lighting analysis tools, such as Elumtools (What Is ElumTools™?, 2016) and Dialux (Lighting Design Software DIALux, 2016), provide three-dimensional (3D) visualizations and walkthrough feature. However, such tools can only provide static outputs with no interaction between the users and the environment e.g., (Bille et al., 2014; Kumar et al., 2014), and are inadequate for dynamically updating or changing design parameters (Kensek & Noble, 2013) and providing simultaneous energy feedback when comparing multiple design scenarios. Moreover, when using traditional tools, designers are unable to directly experience some lighting phenomena that may affect the visual perception of the occupants, e.g., brightness, darkness, glare, or insufficient illumination. In addition, when using conventional BIM authoring software applications and their plugins, tasks related to preparing lighting simulation and sharing information between different tools are very time-consuming (Huang et al., 2008). Furthermore, the rendering step for achieving a photo-realistic output is very time consuming.
On the other hand, virtual reality (VR) provides new perspectives for designers to visualize their design through an immersive experience (Weidlich et al., 2007). Game engines are designed for creating dynamic activities, interacting with objects (Edwards et al., 2015), and providing accurate and timely feedback when users interact with building elements in a virtual environment. To this end, coupling BIM and game engines can extend the capabilities of BIM and makes BIM a more powerful tool for addressing the aforementioned issues.
Therefore, this paper proposes a framework for integrating BIM and a game engine for lighting design visualization and analysis. The objectives of this research are: (1) to investigate a method by which to use serious game simulations for lighting design visualization and performance analysis; (2) to develop a prototype system with a user friendly interface, which integrates BIM and a game engine to support lighting designers for identifying optimal design parameters; (3) to investigate the applicability of the system for assessing lighting design factors, such as visual comfort, energy consumption, and lighting performance; and (4) to validate the proposed method and assess the performance of the developed tool using a real-world case study.
This paper presents a prototype system called BIM-based lighting design feedback (BLDF), for realistic visualization of lighting conditions and calculation of lighting energy consumption with a user-friendly interface using an interactive and immersive VR environment. BLDF provides qualitative and quantitative outputs related to lighting design. The BIM database and scripting features of the game engine are used to create a robust prototype system that performs fast calculation and image rendering. VR technology enables designers to perceive realistic lighting scenes in their designs. Tools such as Autodesk Revit, Unreal Engine, and its scripting environment are used in our system to create an interactive environment that allows changing and visualizing lighting scenes and to facilitate comparison of different design scenarios in our experiments.
The main contributions of the present research are: (1) the proposal of a novel method and a tool for supporting lighting design to assess the required amount of light, the lighting aesthetic, and the total energy consumption using an interactive and immersive VR environment; (2) the proposal of an alternative approach to use a virtual environment to facilitate collaborative and participatory design between designers and clients that provides an efficient decision support system for indoor lighting design; (3) the development of a system that reduces the time required for calculating the illuminance level and achieving a more realistic lighting scene, as compared to conventional lighting simulation software; and (4) the investigation of a method by which to transfer lighting design properties from the VR environment to the BIM database.
Overview of the proposed method
The goal of the present study is to develop a system for visualizing lighting design that allows users to experience, analyze, and assess the lighting quality of their designed space in an immersive environment. The proposed methodology comprises seven major steps, as shown in Fig.
1
. The first step is to create the building model using a BIM authoring software application. In this step, a 3D BIM model comprising the virtual equivalents of veritable building elements is created using a BIM tool, e.g., Autodesk Revit. Building elements (e.g., walls, columns, ceiling, floor, furniture, light bulbs, and fixtures), and their geometric and non-geometric information (e.g., material and properties) are created in the BIM software (Fig.
1a
). The model is then exported to a game engine (Fig.
1b
). The next step is to adjust the model in the game environment and to set initial values using the user interface (Fig.
1c
). Then, visualizations such as lighting illumination (shown with realistic scenes or false-colors), lighting atmosphere, and energy consumption feedback are provided (Fig.
1d
). In this step, lighting simulation is performed in the game environment using an embedded physics engine. The fifth step is to use immersive visualizations provided in the system to identify and analyze the conditions of the lighting design by visually analyzing the lighting conditions, examining visual comfort to achieve an optimum lighting design, and analyzing and comparing quantitative information (Fig.
1e
). If the design is not satisfactory, the system provides options to change and update the parameters for simulating new scenarios and visualizing lighting results via its graphic user interface (GUI) widgets (Fig.
1f
). Once a satisfactory design is achieved, new design parameters are updated in the BIM software (Fig.
1g
).

BIM-based lighting design feedback is a system for visualizing lighting design using VR technology. This system provides two types of game views: first-person and birds-eye views. In the first-person view, an HMD can be used. The HMD responds to the motion and rotation of the user's head and provides a lifelike lighting experience in game scenes. A first-person view is also suitable for perceiving phenomena caused by excessive luminance in the field of view (FOV), e.g., glare. A birds-eye view (or top-down view) is provided in order to clarify the overall setup of the environment and the position of the player when they are moving in the game environment. Realistic scenes and false-color scenes are two types of visualization outputs of the BLDF system. The system calculates the amount of illuminance and generates real-time false-color visualizations. Moreover, the system helps to verify the illuminance level of the design area. A mouse and a keyboard are used as input devices to help users to navigate in the first-person view, and to change parameters.
Development of the BLDF system
Autodesk Revit (Revit Family, 2016), 3ds Max (3ds Max 3D Modeling, 2016), Unreal Engine (What Is Unreal Engine 4, 2016) with its scripting feature, and the visual programming in Dynamo (Dynamo, 2016) are used to develop the BLDF system.
The built-in lighting feature in Unreal Engine 4 uses physically based shading, in which the lighting and shading algorithms approximate the physical interaction between light and materials (Walker, 2014). For example, light intensity in lumens falls off at a rate that follows the inverse square law (Bruneton & Neyret, 2008). BLDF system uses the built-in lighting algorithm in Unreal Engine to generate lighting scenes in a virtual environment. To simulate daylighting, Unreal Engine 4 uses Bruneton sky model, which is an accurate method to simulate skylight in real-time, and considers effects of light scattering, such as Rayleigh and Mie multiple scattering (Bruneton & Neyret, 2008). Precomputed lighting feature in Unreal Engine is available for evaluating the lighting results at runtime. Ray Traced Distance Field is the rendering technique used in Unreal Engine 4 (Ray Traced Distance Field Soft Shadows, 2017).
BLDF system user interface components and supported interactions
The prototype system supports interactivity with which users can experiment and adjust lighting design parameters in real-time. The following interactions are supported: (a)
First-person movement
: to control the movement of users' avatars as they walk in the space; (b)
User interface control
: to customize parameters such as time (to observe the dynamic of sunlight), lighting fixtures, types, orientation, intensity, and color temperature of the bulbs, as well as the location of furniture. Unreal Motion Graphics (UMG), a visual user interface in Unreal Engine, is used to create various GUI elements in the BLDF system. The GUI interface of the proposed system is shown in Fig.
2
. The menus of the game environment enable players to change parameters and freely navigate among game objects using input controllers. The following widgets are created, as shown in Fig.
2
: (a)
Plan view
: to show the layout of furniture and the position of the user. Users can switch between false-color view and realistic views; (b)
Shading devices menu
: to change the type of shading for windows; (c)
Material types menu
: to change the materials of indoor surfaces; (d)
Time slider
: to set time for adjusting the daylight; (e, f)
Light switches
: to turn on/off individual artificial lights; (g)
Lighting intensity menu
: to change the intensity of light sources; (h)
Color temperature control
: to change the color of lights; (i)
Lighting fixture types menu
: to choose the type of lighting fixtures; (j)
Moving and rotation tools
: to move and rotate the light source, lighting fixtures, and furniture; (k)
Lighting illuminance legend
: to help measure the illuminance level (for false-color views); (l)
Total energy usage
: to display the total lighting energy consumption of the room; (m)
Compass
: to show the orientation of users when moving; (n)
Lighting occupancy sensor
: to switch lights on/off when the space is occupied and unoccupied; (o)
Task light
: to add individual light controls to each workstation.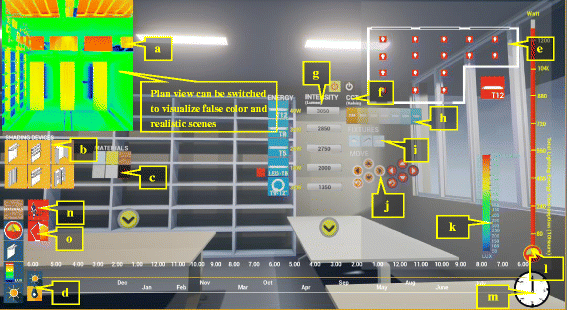 The global illumination algorithm in the Unreal Engine is used to automatically produce lighting illumination scenes and calculate detailed shadows at runtime. The scenes can also be visualized in false-color, which shows the illuminances at different levels in the scene. Red indicates an illuminance level that exceeds than 1000 lx, and dark blue indicates an illuminance level of less than 100 lx. The user can hide/unhide each widget on the viewport. A keyboard and mouse are used as input devices to change design parameters in the proposed system. The designer can change the light intensity (measured in lumens) and the color temperature of a light (measured in Kelvins) using associated widgets on the interface (Figs. 2g and h). Additional lighting equipment items are modeled in the BIM application and are added to the game environment as an alternative equipment repository. However, it is possible to import libraries of lighting elements from the BIM application into the game engine. After adding items to the equipment repository, new types of lighting equipment are shown on the interface (Fig. 2i). The material and texture of indoor envelopes, e.g., the floor, walls, and ceiling, can be modified using the developed widget (Fig. 2c).
Ambient lights can be switched on/off using the light switch panel (Fig. 2e). The system provides the ability to set up lighting zones when lighting control per zone is required. An additional option for lighting control is the lighting occupancy sensor, which automatically controls ambient lights and task lights (Figs. 2n and o) in the BLDF system. In order to implement occupancy sensing, the Box Trigger tool and visual scripting of Unreal Engine are used. The lights will automatically turn on when the user walks into a specific zone and automatically turn off when the specific zone is vacated.
The total energy consumption of lighting equipment is shown in the energy consumption bar. A simple lighting energy calculation formula is used to calculate lighting energy in watts (number of fixtures × light power (W) = total consumption). The system also provides an interface to enter the time and date for adjusting the daylight duration (Fig. 2d). In order to simulate sunlight, directional light is added as an actor in the game environment, and visual scripting is used to automatically control the yaw and pitch of the sun and to control the position of the sun based on the time and the season.
Alternatives for shading devices, e.g., horizontal panel, horizontal multiple blades, vertical fin, slanted vertical fin, and egg crate (Fig.
2b
), are provided in the system. Shading device models are created in BIM and are imported into the game environment as an alternative equipment repository. Users can compare the influence of shading devices on indoor lighting. The illuminance range legend (Fig.
2k
) is used to identify the illuminance values, and the compass (Fig.
2m
) helps to identify the orientation. Fig.
2a
shows a false-color visualization, which helps designers to preview the amount of illuminance. The sample visualizations in Fig.
3
show the results of various simulations when parameters are changed using the developed widgets.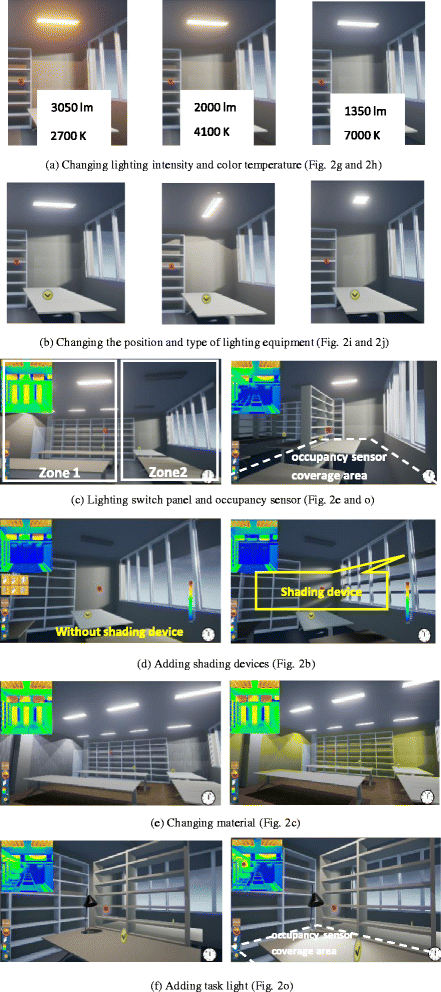 BLDF's usage process flow
The usage process flow of the BLDF system (as shown in Fig.
4
) is as follows: (a) The BIM model is created in Autodesk Revit, in which the geometry and material properties of building elements are modeled; (b) A static mesh is created after exporting the FBX file from Revit to 3ds Max; (c) A 3D geometry in the game environment is automatically created after importing the FBX file of the BIM model into Unreal Engine. Due to interoperability issues between the current versions of applications, although the geometry information of the building elements and lighting equipment are successfully imported into Unreal Engine, some of their properties, such as color/texture and lighting properties, are not transferred; (d) Light bulbs and their properties (e.g., intensity and color temperature) are manually added to the game engine. In addition, the orientation, the scale of the building, and the color and textures of interior envelopes are manually configured in the game environment; (e) Lighting parameters, such as intensity, color temperature, position of lighting equipment, and interior materials, are configured using the GUI (as explained in Subsection 4.1); (f) The simulation is executed, which enables users to immediately view quantitative results (e.g., energy consumption) and visualizations; (g) The user analyzes the lighting design outputs; (h) If the results are satisfactory, the game parameters are saved and a text file is generated; (i) The final design information parameters, such as lighting intensities, color temperatures, and positions of fixtures and bulbs are updated in the BIM using visual programming in Dynamo (explained in Subsection 4.3); (j) The BIM model is saved with the updated parameters. The user can set new parameters and run simulations until a satisfactory design is achieved. Realistic scenes with walk-through capability support qualitative assessment and the false-color scenes support quantitative assessment. The system is used in design meetings to facilitate discussions between designers and clients.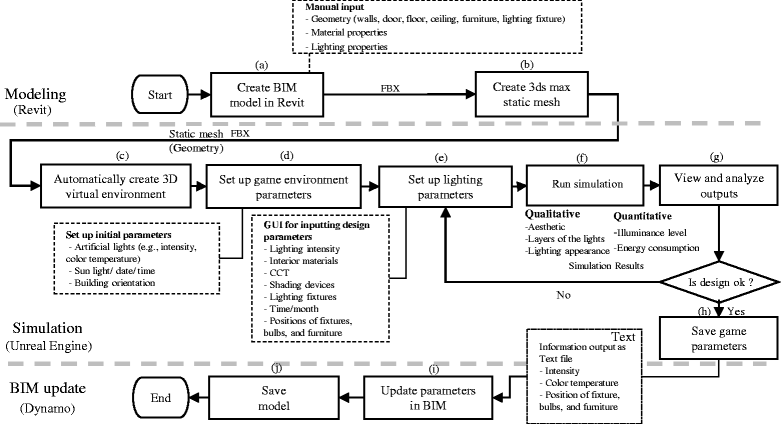 Updating BIM with new design parameters
Dynamo (Dynamo,
2016
) visual programming is used to update new design parameters in the BIM application. Figure
5
shows the process flow of updating the the design parameters in BIM. After finalizing parameters, such as intensity, color temperature, and fixture position for each individual light bulb, and the positions of furniture and shading devices, and the material types of interior envelopes, the new parameters are saved in a text file (Fig.
5a
). The developed visual script (Fig.
5b
) automatically updates the lighting properties in Autodesk Revit (Fig.
5c
) using unique IDs of model objects.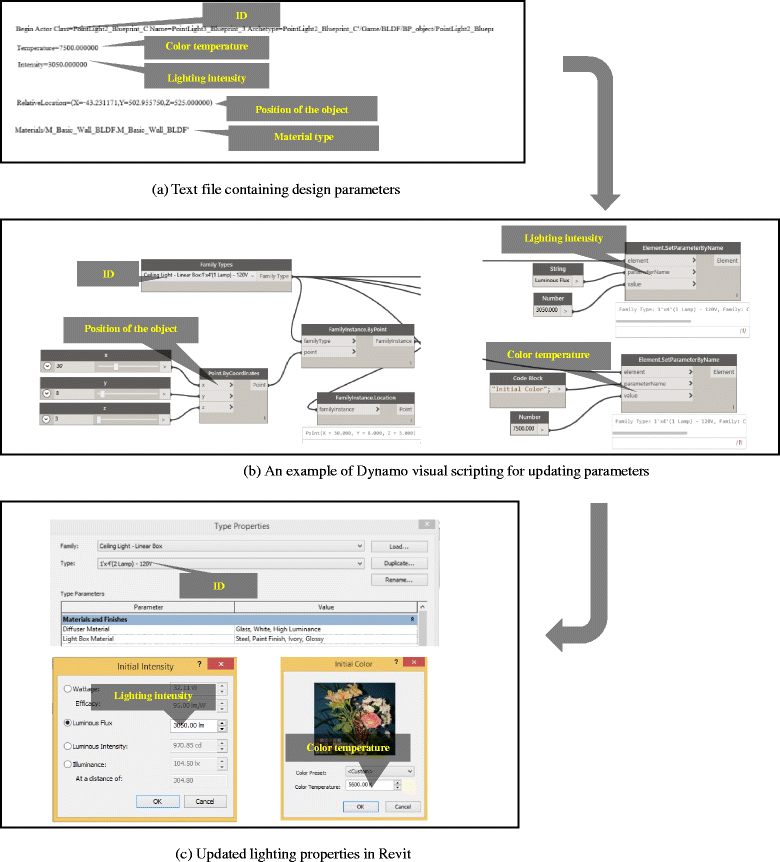 System accuracy verification
An office on the fourth floor of the M3 building at Osaka University, Japan, was chosen as the area for the experiment. Figure
6
shows the actual room condition. The room has a typical rectangular shape (Fig.
6a
). First, a verification test was performed in order to evaluate the accuracy of the BLDF system. The verification test was performed in a section of the room shown in Fig.
6b
.

In order to verify the accuracy of the lighting simulation outputs, lighting illumination levels calculated by the proposed system, those calculated by third-party lighting simulation software applications (i.e., Radiance and Lighting Analysis for 3ds Max) and the actual measured values using a light meter were compared. Radiance is a physically-based lighting simulation developed by Lawrence Berkeley National Laboratories in the U.S. In order to simulate lighting in Radiance, the building geometry information from Autodesk Revit is imported into Ecotect using gbXML file format to define an analysis grid, location of artificial lights, sky condition, and time. The model from Ecotect is then exported to Radiance to perform the lighting analysis. Radiance is a radiosity based lighting simulation program and uses backward ray tracing to compute lighting values for a scene and store scene values (Ochoa et al., 2010).
In the verification test, the lighting intensity and color temperature of lamps were set based on their specifications with no obstacles between the lights and light-measuring devices. The verification area (shown in Fig.
6b
) has four ceiling lighting fixtures with eight tubular fluorescent (T8) lamps of 32 W each (2850 lm, CCT 5000 K) (Fig.
6c
). The test was performed on the 23rd of August in Osaka, Japan, under a clear-sky weather condition (Fig.
7
). The illuminance values were collected at 10:00 a.m. to evaluate the daylight (Fig.
7a
), at 10:10 a.m. in order to evaluate the combination of daylight and artificial lights (Fig.
7b
), and at 8.00 p.m. to evaluate only the artificial lights (Fig.
7c
).

The illuminance values were measured at six locations on the tables shown in Fig.
6c
using a light meter (CEM DT-1308 light meter; accuracy: ±5%) (Fig.
7
). The measurement results of the illuminance level on the table when the only lighting source is daylight are reported in Table
1(a)
. The results for the case of the combination of daylight and artificial lights are reported in Table
1(b)
, and the measured illuminance levels produced by artificial lights at night are reported in Table
1(c)
. The same scenarios were configured in the BLDF system, and the illuminance values were collected. Table
1
shows the data collected by light sensors, the BLDF simulation results, results of Lights Analysis for 3ds Max, and results of Radiance. The false-color visualizations of BLDF simulation are shown on Fig.
8
.
Table 1
BLDF lighting simulations and comparison results
Points

Illuminance levels (lux)

BLDF error

Illuminance levels (lux)

Radiance error

Illuminance levels (lux)

Sensor Reading

BLDF

Radiance

3ds Max

3ds Max error

(a) 10:00 a.m. (daylight)

 A

864

870

0.69%

819.14

5.42%

789

8.68%

 B

910

870

4.39%

800.09

12.07%

868

4.61%

 C

792

750

5.30%

782.38

1.21%

767

3.15%

 D

667

670

0.45%

708.49

6.22%

940

40.92%

 E

754

725

3.84%

847.35

12.38%

662

12.20%

 F

720

670

6.94%

738.82

2.61%

711

1.25%

Average

3.61%

6.65%

11.80%

(b) 10:10 a.m. (daylight + artificial lights)

 A

1203

> 1000

–

1102.06

–

1064

–

 B

1350

> 1000

–

1175.67

–

1145

–

 C

1012

950

6.12%

982.36

2.92%

876

13.43%

 D

895

900

0.55%

952.15

6.85%

1234

37.87%

 E

982

950

3.25%

925.38

5.76%

951

3.15%

 F

956

850

11.08%

964.17

0.85%

824

13.80%

Average

5.25%

4.09%

17.06%

(c) 8.00 p.m. (artificial lights)

 A

832

850

2.16%

837.13

0.61%

732

12.01%

 B

875

825

5.71%

847.62

3.12%

774

11.54%

 C

768

750

2.34%

750.20

2.31%

519

32.42%

 D

822

850

3.40%

833.16

1.35%

891

8.39%

 E

844

850

0.71%

845.58

0.18%

850

0.71%

 F

722

750

3.87%

747.89

3.58%

521

27.83%

Average

3.03%

1.85%

15.48%

As shown in Table 1, in the case of daylighting simulation, the largest errors of the BLDF simulation, Radiance, and 3ds Max were 6.94, 12.38, and 40.92%, respectively. The average errors in the daylight simulation for the BLDF, Radiance and 3ds Max were 3.61, 6.65, and 11.80%, respectively. In the case of the combination of artificial lights and daylight, the largest absolute errors for the BLDF, Radiance and 3ds Max were 11.08, 6.85, and 37.87%, respectively. The BLDF system shows all values above 1000 lx with one color. Hence, an accurate comparison for points A and B in this case is not available. However, the average absolute errors for four other points (i.e., C, D, E, and F) were 5.25% for BLDF, 4.09% for Radiance, and 17.06% for 3ds Max. In addition, in the case of artificial light only, the maximum error of the BLDF system was 5.71%, whereas the maximum error of Radiance was 3.58%, and 3ds Max was 32.42%. Furthermore, the average absolute error for artificial light was 3.03% for BLDF, 1.85% for Radiance, and 15.48% for 3ds Max. Fisher et al. (Fisher, 1992) recommended an acceptable error range between measurements and simulation is 10% for average illuminance calculations and 20% for each measurement point. Therefore, the BLDF system provides a consistent level of accuracy similar to other lighting simulation systems and its accuracy values are within an acceptable range.
Case study
BIM modeling and game engine integration
The applicability of the BLDF system is validated in a design assessment and renovation project. The case study was performed in an office at Osaka University, Japan. Figure
9
shows 3D BIM model and 2D plan of existing fixtures position of the case study room. The BIM model of the room was created using Autodesk Revit Architecture 2015 (Fig.
9a
). The BIM model contains details of the lighting system, and geometric and non-geometric information of components, e.g., building envelops and furniture. Lighting properties, such as the intensity and the color temperature, are configured based on the specifications of the lamps. Figure
9b
shows a 2D plan of existing lighting fixtures. The room has 16 lighting fixtures with 32 tubular fluorescent (T8) lamps of 32 W.

The goal is to facilitate lighting design by allowing users to interact with the design and to perceive and experience the effects of the modifications simulated by the system. In order to integrate BIM with a game engine, the geometry information of building elements with their reference IDs are transferred from the BIM application (i.e., Revit) to the game engine (i.e., Unreal Engine). The BIM geometry data are transformed to a static mesh using 3ds Max. Figure
10
shows the process of transferring the model, in which the FBX file format is used to export the model from Revit into Unreal Engine. Regardless of the data export format, some important information, e.g., material textures, color temperature, and light intensity, is lost while exporting data to the game engine. The lost features must be redefined in the game environment.

Immersive VR for BLDF
In the experiment, users were invited to use the BLDF system with an HMD (Oculus Rift Kit 2, OLED display, 1920 × 1080 pixels per eye with 100° nominal field of view) to visualize the design through a first-person perspective. In the first-person perspective with an HMD, a mouse is used to interact with game objects and a keyboard is used to navigate in the virtual environment. The user can move the game objects and change the lighting design properties by clicking on the GUI buttons. The goal is to reduce the energy consumption while providing adequate illumination on desks in an aesthetically pleasant environment. In order to achieve this goal, the following six test cases were designed. The test cases are based on three fundamental aspects of lighting design of buildings: (1) evaluating the illuminance level, (2) calculating the energy consumption of the lighting system, and (3) visualizing lighting appearances.
Results and Discussion
The result of the aforementioned validation scenarios provide several new regarding the integration of a BIM and VR for indoor lighting design feedback.
Although using existing lighting simulation software packages (e.g., Ecotect, Radiance, Dialux, 3ds Max) can help improving iterative lighting design processes, such commercial software application have limitations. For example, these applications require long processing time to calculate the illuminance level. There are also limitations in handling models with complex geometries. Additionally, operating existing software packages, such as Radiance and Dialux, usually requires specialized knowledge and technical skills. Furthermore, such applications do not provide analysis of the appearance of lighting design and quantification of the amount and the distribution of lighting in real-time. The lighting simulation outputs are mostly generated and presented as 2D photorealistic, false-color, and HDR images, which lack complementary information such as the geometry, volumetric information of the target space, and the real-life experience of the space. The conventional lighting simulations applications primarily measure the amount of light falling on surfaces (i.e., illuminance) and do not provide information about the luminance in the target area. Finally, using traditional lighting simulation applications, the human visual perception is not directly involved in the analysis process. The developed BLDF system introduced a new idea to address some of the above-mentioned drawbacks.
One of the goals of the development of the BLDF system was to provide a tool to explore and perceive luminance distribution and illuminance in a virtual environment. BLDF system provides a unique experience for realistic visualization of lighting design in an immersive environment. It allows previewing the effect of lighting in a target space and quantifying the amount of illumination with real-time visual feedback.
Currently, the BLDF system enables a holistic overview of lighting design through its visualizations. This benefits not only designers but also all parties involved in the design process (e.g., owners). Compared with non-immersive feedback (e.g., through a computer screen), the system provides more efficient feedback via immersive visualization through a first-person perspective, which helps to present and communicate ideas, and provide explicit decision support regarding future designs, by clearly indicating areas that require improvement in lighting quality. Using immersive VR display technology, BLDF delivers a semi-realistic perception of artificial and daylighting. It also generates realistic and false-color scenes at runtime. Using the GUI, material and texture of indoor envelope and several lighting parameters can be modified to suit the requirement of the designer. Performing such modifications can be very time-consuming using conventional lighting simulation applications.
The BLDF system was tested in an office building. However, other types of buildings can be easily analyzed by the system. The current BIM authoring software lack features to transfer data on light bulbs, materials and textures when exporting BIM data to VR authoring software. Although the game features worked well for our case study, a number of improvements should be considered in future research:
The ability to visualize and compare the outcomes of different lighting setups by switching between views of alternative design settings makes visual comparison more effective.

In false-color scenes in VR, providing the numerical data of illuminance values for each measurement point can reduce the error of estimating the illuminance value. In our system, 1000 lx is the maximum illuminance value that can be measured and visualized in false-color scenes. Therefore, improving the system to visualize and measure illuminance values above 1000 lx is required.

The electric power consumption in the interface only considered the total wattage. However, in order to approximate lighting energy consumption, both wattage and the duration of use per day are required. Therefore, providing an occupancy schedule that corresponds to the operating hours of artificial lights can help in calculating the total energy consumption more thoroughly.

Although HMD provides maximum immersion in the virtual scenes, in order to accurately perceive lighting phenomena, such as glare, HMDs with high-resolution display screens are required. It is also possible to use BLDF with an LED display with a higher resolution.

The effect of different sky conditions that influence outdoor/indoor illumination over time should be included in the BLDF.

Using conventional input devices, such as a mouse and keyboard, is difficult while wearing an HMD. Therefore, interruptions may occur when the system is being used. The use of game controllers and motion tracking technology can solve this problem.

The final design parameters in VR need to be updated in the BIM database both for geometry information and other properties, e.g., bulb types and light intensities. Although this can be done with the help of visual programming tools, such as Dynamo, automatic synchronization between design parameters in VR and BIM should be developed. In addition, using visual programming requires additional time and programming experience. Hence, open source data exchange formats, such as the industry foundation classes (IFC), can be used for exchanging data between applications.
Conclusions and future research
This paper investigated a method by which to integrate BIM and a game engine for lighting design visualization and analysis. The prototype system is developed using the Unreal Engine game authoring software system with its visual scripting environment. In order to use the BLDF system, the following activities should be performed: 1) creating a BIM model; 2) exporting the BIM model into the game engine; 3) adjusting the model in the game environment and redefining the initial values of the design parameters; 4) visualizing lighting illumination, lighting atmosphere, and energy consumption using VR; 5) evaluating and analyzing the condition of lighting design; and 6) configuring design parameters using a GUI to achieve the desired lighting results. An approach to allow users to interact with design objects created in a BIM application and experience lighting design in an immersive environment was discussed. The user can define and explore design parameters, and the results can be simulated in real-time.
The developed system presents a solution for integrating lighting simulation with interactive visualization to support lighting design. The users can perceive the influence of the design modifications on characteristics of light in the space. Using an immersive virtual reality experience, BLDF facilitates the process of design for users. The proposed system can aid understanding, predicting, and assessing indoor lighting environment in real-time during the design phase, which is not possible with traditional lighting simulation tools.
The proposed method was validated in a case study in a campus building at Osaka University, Japan. The initial results revealed that the data can be successfully exchanged between the BIM database and the game engine. The BLDF system enables design parameters to be determined by comparing multiple lighting setups. The BLDF is easy to use with its GUI, which allows design parameters to be redefined interactively. The user can easily change, move, and rotate fixtures. Quantitative and qualitative outputs of the proposed system help in analyzing the lighting design and evaluating visual comfort.
There are several limitations for our developed prototype system. Some of these limitations are related to the use of hardware and some are related to the developed tool. Although using HMD provides a sense of immersion and realism of lighting condition, there is a constrained FOV on distance perception and the pixel density of the current VR headsets. Such factors can decrease the accuracy of perceiving lighting phenomena, such as glare, brightness, and darkness. With the rapid advancement of HMD technologies, a higher level of perceptual accuracy of lighting in a future release of HMDs is expected. Our system currently rely on the physics engine of Unreal Engine for simulating glare on available HMD headsets, hence, accurate and realistic perception of glare is not possible. However, the simulation outputs of glare in the current implementation is still helpful for lighting designers.
Exchanging information between BIM and the chosen game engine is limited to only 3D geometry, and information such as the properties of light bulbs, materials, and textures cannot be transferred. Thus, the user has to manually redefine bulbs and recreate textures in the game environment. Furthermore, complex geometries contained in the BIM model, e.g., furniture models, were not transferred into the game engine. Therefore, the use of low-polygon models (level of development (LOD) 100–300) (Level of Development Specification, 2016) should be considered in the BIM modeling process.
Areas of future research include integrating the occupancy schedule in the system for the energy simulation, developing a method to export lighting information to the IFC format file using the proposed IFC resources, and developing a system to analyze the amount of excessive light and heat in VR. In addition, the influence of geographic locations and weather conditions were not considered in our prototype system. Therefore, in future work, we intend to study the influence of such factors on natural light in VR. Furthermore, performing glare analysis using VR technology is considered as future work of this research.
Declarations
Acknowledgements
This work was supported by Japan Society for the Promotion of Science (JSPS) KAKENHI Grant Number JP26-04368.
Funding
Japan Society for the Promotion of Science (JSPS) KAKENHI Grant Number JP26–04368.
Availability of data and materials
Not applicable
Authors' contributions
WN designed and developed the BIM-based lighting design feedback system, called BLDF, approach for evaluating lighting quality using immersive environment under the supervision of NY and AM. AM provided suggestions on the system validation and analysis. TF gave an idea to create a system for the lighting design feedback using BIM and VR. All authors contribute to the writing of the manuscript in the way that WN drafted the manuscript and AM reviewed and revised it. AM and NY supervised the entire processes of this study. All authors read and approved the fina manuscript.
Competing interests
The authors declare that they have no competing interests.
Publisher's Note
Springer Nature remains neutral with regard to jurisdictional claims in published maps and institutional affiliations.
Open AccessThis article is distributed under the terms of the Creative Commons Attribution 4.0 International License (http://creativecommons.org/licenses/by/4.0/), which permits unrestricted use, distribution, and reproduction in any medium, provided you give appropriate credit to the original author(s) and the source, provide a link to the Creative Commons license, and indicate if changes were made.
Authors' Affiliations
(1)
Division of Sustainable Energy and Environmental Engineering, Environmental Design and Information Technology Laboratory, Graduate School of Engineering, Osaka University, Osaka, Japan