Review and analysis of augmented reality literature for construction industry
Visualization in Engineering
2013
1:9
Received: 1 March 2013
Accepted: 5 August 2013
Published: 29 August 2013
Abstract
Research has identified various beneficial capabilities for augmented reality technologies in the AEC industry such as virtual site visits, comparing as-built and as-planned status of projects, pre-empting schedule disputes, enhancing collaboration opportunities, and planning/training for similar projects. This paper provides an expanded foundation for future research by presenting a statistical review of augmented reality technology in the AEC industry. The review is based on articles found within eight well-known journals in architecture, engineering, construction, and facility management (AEC/FM) until the end of the year 2012. The review further narrows the literature within these journals by considering only those 133 articles found through a key word search for "augmented reality." The selected journal articles are classified within the following dimensions: improvement focus, industry sector, target audience, project phase, stage of technology maturity, application area, comparison role, and technology. The number of articles within these dimensions are used to identify maturing and emerging trends in the literature as well as to synthesize the current state-of-the-art of augmented reality research in the AEC industry. In summary, the AR literature has increasingly focused on the demonstration of visualization and simulation applications for comparison of as-planned versus as-built statuses of the project during the construction phase to monitor project progress and address issues faced by field workers. In addition, the future trend is toward using web-based mobile augmented systems for field construction monitoring.
Keywords
Augmented realityAEC industryProject phaseConstruction managementLiterature review
Introduction
The complex nature of the architecture, engineering, construction, and facility management (AEC/FM) industry and its high demand for access to information for evaluation, communication and collaboration, increases the industry's need for information technologies. Recent visualization technologies such as virtual and augmented reality technologies are ideal in this environment.
Review
Discussion
Figure
18
shows the total number of articles in defined dimensions and categories, in which increasing trends over the period are indicated by an up arrow and dominant categories are indicated by bold font.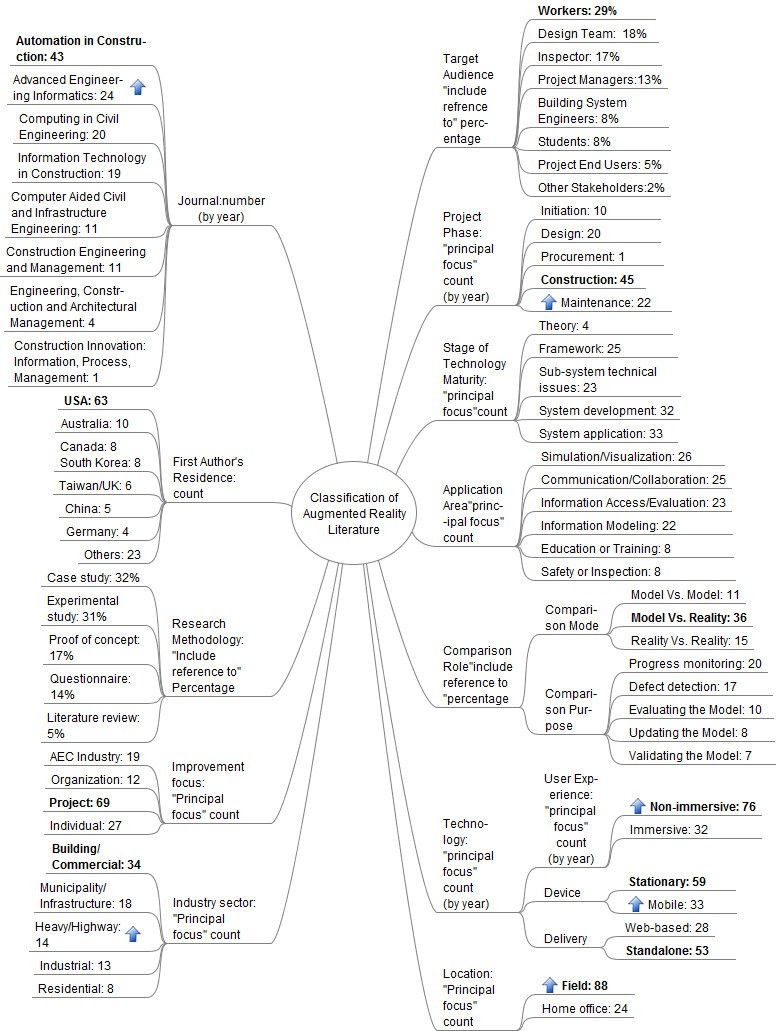 The following results are concluded for the categories defined in this research.
Journals: Automation in construction has the highest overall number of articles among the journals. The maximum number of AR technology articles published in these eight journals in a single year, occurred both in 2011 and 2012. Eighty-three percent of the articles were published in most recent five years.

First authors: USA, with more than half of articles, is the dominant residence of the first authors.

Research methodology: Case studies and experimental studies with 32% and 31% respectively, are the most frequent research method among selected articles.

Improvement focus: The majority of the articles focus on projects rather than on the AEC industry, organization or individual level.

Industry sector: building/commercial with 35% have the highest number of articles, whereas, residential have the least number of articles.

Target audience: The most frequent focus is the workers (e.g., machine operators and technicians), whereas the least focus is on project end users.

Project phase: The most frequent focus is the construction phase with the maintenance phase being next with approximately half as many articles. Twenty-six articles cover two phases (e.g., initiation/design) or all phases. Procurement phase shows a lack of focus in the area of AR systems.

Stage of technology maturity: The most number of articles focus on AR system application rather than system development or sub-system technical issues.

Application areas: Approximately half of the articles had a principal focus on visualization/simulation or communication/collaboration, and just a few articles focus on education/training and safety/inspection.

Comparison role: 47% of the articles made reference to the comparison role of augmented reality technologies for comparing different statuses of projects. More than half of those articles focused on comparing a model with a reality to monitor progress and detect construction defects. Comparing model vs. model captured the least attention in this area. In addition, majority (%60) of the comparison articles focus on field audience (for progress monitoring and defect detection), while less than half of the comparison articles focus on home office audience (for model improvement).

Hardware system: From the user-experience perspective most of the articles discussed non-immersive technologies. From the delivery perspective, most of the articles discussed standalone technologies, and from device perspective, most of the articles focus on non-mobile technologies. A spike in the number of articles focusing on mobile technologies occurred in 2011.

Location: The most frequent focus is AR technologies which can be applied in the field (rather than in the home-office). The field category included almost 80% of those articles which referred to a location.
Future trends
Table
14
provides a list of the categories for which there was a significant and consistently-increasing trend in the most recent five years. There were no categories for which the number of articles was consistently-decreasing over the 14 year period.
Table 14
Significant trends
| Dimension | Category | 2008 | 2012 | Factor |
| --- | --- | --- | --- | --- |
| Journal | AIE | 0 | 7 | ∞ |
| Industry sector | Heavy/highway | 1 | 5 | 5.0 |
| Project phase | Maintenance | 1 | 8 | 8.0 |
| Delivery | Mobile | 4 | 7 | 1.8 |
| Location | Field | 8 | 21 | 2.6 |
| Total number of articles | All categories | 20 | 26 | 1.3 |
AR technologies provide proven benefits especially in the areas of visualization/simulation and communication/collaboration, however these benefits are not yet widely adopted by AEC industry participants nor have they been incorporated into industry-wide workflow processes. As a result, industry participants choose to pilot (i.e., system development and application) AR technologies on a few projects rather than adopting or piloting the technology across their organization.
Building/commercial projects provide a good test bed for visualization and communication of different perspectives of a project, since these projects typically entail more complexity and more need for integration than an infrastructure, heavy/highway, or residential projects. However, the trend in the most recent five years shows that heavy/highway projects are getting an area of focus for new AR technologies. We also predict that use on industrial projects will grow rapidly as technologies are improved and confidence is gained.
We predict expansion of AR technologies from a principal role in the construction and maintenance phases to other phases (especially the design and procurement phases) as the ability to compare virtual models with previous virtual models (and realities with previous realities) to monitor project progress and detect construction defections, rather than the narrow focus of comparing a current construction phase reality with a final design phase model.
The uniform distribution of target audiences among the design team, the project management team, and on-site personnel reflects integration being the essential purpose of AR technologies.
We predict continued growth in the use of internet and web-based devices to enhance integration of perspectives. Collaborative, ubiquitous, and internet-based AR systems enable users to update and synchronize the information from a remote location. Cloud computing technologies could help next generation construction professionals to access massive amount of field information such as BIM rapidly and conveniently (Chi et al. 2013).
We also predict continued growth in the use of mobile and portable multi-user AR devices to display (and capture) models and realities. The next generation mobile technologies are likely to have natural user interface (Wang et al. 2013), which would be controlled by human movement and gestures, and makes it easy for field workers to use AR systems on construction sites. It is also predicted that next generation mobile AR systems would have context-aware and location-aware applications. We also speculate that the cost of immersive hardware is, and will continue to be, an impediment to its widespread use.
Conclusion
A structured methodology was used to identify 133 articles on the topic of augmented reality from eight prominent AEC industry journals. The first article was published in 1999; a significant increase in the number of articles on this topic occurred during the year 2008. In addition to statistics on the counts of articles by year and the first author's country of residence, ten interpreted dimensions were developed for classification of these articles. Literature show field workers and project managers have high interests in using non-immersive and desk-top standalone (individual) AR technologies during construction phase of a project to compare as-planned versus as-built statuses to monitor progress and defect detection. Whereas, it is predicted that future trend, is more toward using collaborative and internet based mobile AR systems which have applications not only in construction phase, but also in procurement and maintenance phases of a project. Due to various benefits of AR technology for construction industry, the application of AR systems for initiation and procurement phase of a project to compare model vs. model and reality vs. reality is recommended. Moreover, lightweight mobile and immersive AR systems are also recommended for field personnel due to dynamic environment of construction fields.
Based on this review, our recommendation for researchers in the area of AR technology is that the current trial systems should have narrow applications and there is an essential need for more comprehensive systems. There is an opportunity for more research on the application of AR systems during the procurement phase of construction projects, since literature shows a lack of research in these phases of project. In addition, the assessment of success of developed systems should be validated by researcher and practitioner from academy and industry. From a theory and framework perspective, integration of multiple projects (within an organization) and integration of multiple organizations (within the industry) could be a considered for future research in the area of AR systems. Integration might be easier in less complex types of work, i.e., residential projects. Comparisons are fundamental to AR system within the AEC industry to be able to monitor projects and defect detections, therefore, our testing of five comparison purposes (progress monitoring, defect detection, evaluating the model, updating the model, validating the model) need to be further investigated.
We assume that construction industry practitioners would assess an AR system based on the system contents, features, and value. From the content perspective they would seek current (possibly real-time) information as well as a historical record that may be integrated with traditional project information (e.g., BIM). From a feature perspective, they would seek a user friendly interface (possibly internet-based) that can be integrated into their content workflow process and that facilitate the comparison of project statuses over time. From the value perspective, they would seek an affordable cost (initial and ongoing) for which the payback period is short. We assume the benefits of AR contribute to this payback are virtual site visits, defect detection, pre-empting dispute resolution, photographic as-built, and training of personnel. Currently, most of systems found in the literature are trial/demonstration, hence they are developed for specific purposes they do not have all of the above criteria, however some new systems offers some valuable feature and may provide a competitive advantages. As the technology is rapidly evolving, it is recommended to the construction participants to monitor this developing area closely in order to get the latest update.
Authors' Affiliations
(1)
The Department of Civil Engineering, University of New Brunswick, Fredericton, Canada
Copyright
© Rankohi and Waugh; licensee Springer. 2013
This article is published under license to BioMed Central Ltd. This is an Open Access article distributed under the terms of the Creative Commons Attribution License (http://creativecommons.org/licenses/by/2.0), which permits unrestricted use, distribution, and reproduction in any medium, provided the original work is properly cited.