Adapting LOD definition to meet BIM uses requirements and data modeling for linear infrastructures projects: using system and requirement engineering
Visualization in Engineering
2017
5:21
Received: 7 January 2017
Accepted: 21 September 2017
Published: 6 November 2017
Abstract
Background
Within the current organization of design activities it is difficult to fully realize the potential of BIM (Building Information Modelling). In BIM processes, it is necessary to identify and exchange the specific information that is relevant in the exchange information requirements of each project. The concept of level of detail of the information is a tool for describing and quantifying the information that should be exchanged. But the existing definitions of level of detail of information are not easily usable. Precise definitions of methodology, tools and principles are needed to redefine this concept and to use it in order to define the elements of information that are relevant to be exchanged.
Methods
The authors propose the use of System Engineering and Requirements Engineering to define BIM uses and the relevant level of detail of information and its modelling concerned by each BIM use. The authors first explain why, in this context, the existing definitions of LOD, which can mean level of detail, level of development, level of definition, etc., are not sufficient and not always coherent. They demonstrate through real use cases that System Engineering and Requirement Engineering are a part of this methodology and propose, using formalisms, to describe each BIM use in detail.
Results
The authors apply two different approaches to defining the relevant information to each BIM use. Using a top-down conceptual approach they show that Level Of Detail (LOD) is a crucial element in defining the content of a BIM use. They then verify the practicality of their proposal using a bottom-up approach based on three use cases (acoustic studies, safety audit, sizing drainage system). These cases studies allow the authors to address different kinds of systems and objects within a whole infrastructure project. They represent domain use cases (acoustic and drainage) and coordination use cases (safety audit). This part of the work is based on the L2 project in Marseille, which is a Public Private Partnership for expressways.
As a result, a methodology is proposed both to redefine the level of detail of information concept and to describe how this concept is used to complete the BIM uses definition. The system engineering and requirement engineering methods are partially adapted to infrastructure projects. These elements facilitate the description of BIM uses expected in BIM Execution Plans. It was necessary to change the definitions of LOD in order to make them compatible with the methods of requirement management.
Conclusions
Design activities should be reorganized toward the common goal of meeting project needs and requirements. The authors demonstrate that the best way to meet requirements is to define BIM uses using a new definition of the level of detail of information. It has first to consider requirements that have to be reached through BIM and then define the relevant level of detail of information, using the concept of abstraction of reality. To do it well, applying system engineering and requirement engineering, adapted to infrastructure project, is required. To validate this proposal on an entire project, more use cases will be tested in further work.
Keywords
Infrastructure modelingData modelingData managementSystem engineeringRequirementLODBIM useIDM
Background
The linear infrastructure projects include a significant number of complex structures such as roads, tunnels, channels, networks, bridges or earthworks for example. They also have to take into account multiple stakeholders (engineering firms, manufacturers, builders, public administration). In addition, infrastructure projects are at the convergence of several scales of representation (territory to local scale) and degrees of accuracy as stated in Borrmann et al. (2012). In BIM (Building Information Modeling) processes, we have to share information. These exchanges need conceptual data models to structure information and tools in order to identify and select the relevant information in these data models. In the French research project called MINnD (INteroperable INformation Modeling for sustainable INfrastructures) (MINnD 2017), many experiments have shown that data modeling of infrastructures is not only 3D representation. In addition, data modeling is usually proprietary (technical specifications belong to the editor and are not available for users), barely collaborative and incapable to this date of handling the complexity of these infrastructure projects (MINnD UC 6-1 2016; MINnD UC-3 2016; MINnD 2014). Quite a few open data models exist for infrastructure. They are now in definition based on older works (Lee and Kim 2011; Obergriesser and Borrmann 2012; Yabuki and Li 2006). But these standards define all project objects and do not give tools to select relevant information. For example, buildingSMART propose to complete data models standards with Information Delivery Manual (IDM) and data dictionaries (buildingSMART 2014, 2017; ISO 29481-1:2016 2016; ISO 29481-2 2012).
An infrastructure project exists because of a client's needs. Data consistency has first to be based to fit the client's needs, the subsequent products requirements (describing object and systems performances) and not only on interoperability considerations. Using BIM and defining IDM could be the first step in considering products requirements to define information exchange requirements, workflows and data modeling. A BIM use is defined as a method of applying BIM during a facility's lifecycle to achieve one or more specific objectives (Kreider and Messner 2013). Indeed, a BIM use is typically defined to meet product requirements (Kreider and Messner 2013) through information exchange requirements. Project BIM uses have to be defined not to change the project but only the way the project processes are run and the way to use BIM efficiently (Kreider and Messner 2015).
The concept of BIM use is closely linked to the level of detail of information concept to describe which project information has to be exchanged (Kreider and Messner 2013; Penn State 2011). In linear infrastructure project, we have to integrate geospatial information. In geospatial information modeling and in Geospatial Information System (GIS), the level of detail concept is generally dedicated to model objects with the most relevant geometry and representation according to a specific objective of analysis and working scale (Ruas 2004). A Level Of Detail (LOD) defined in the CityGML standard facilitates the visualization and the analysis of data for 3D city models. For instance, an object can have different representations for each LOD which enables analysis and visualization of the same object with several degrees of resolution (Groger and Plumer 2012). The Level Of Detail (LOD) or Level of Development (we propose to note LODt to reduce confusion with different concepts called LOD) for design is to transcribe the design evolution. These different levels are not always compliant, they are not yet standardized, and they are subject to interpretation (Boton et al. 2015; Tolmer 2016). As explained in (Plume and Mitchell 2011), BIM and GIS has more than two standards to share and deal with. In fact, we orient our work to include GIS data in BIM processes. Furthermore, these comparisons do not allow us to resolve the problem of modeling information, based on the needs identified in the response to product requirements and information exchange requirements (first application on previous use cases).
For several years, as explained in (Bot and Vitali
2011
) about modeling in engineering, industrial activities are more and more considering everything as models (Table
1
). It is a new step after considering everything as objects (Bot and Vitali
2011
). This paradigm is related to designed objects but also to the way of organizing the project stakeholders (INCOSE
2015
). As mentioned in this Table, we need to consider "Multidisciplinary teams of designers involved in a common project". This Table also details the need for defining codified processes and common data models for sharing models between teams. This paradigm is what we need to implement for building industry to concurrent engineering.
Table 1
Comparative table of the three design paradigms (Bot and Vitali 2011)
Design paradigm

Craftsmanship

Experimental design

Abstracted conception

Stakeholder

craftsman

experimenter

modeler

Object

Develop an adjusted artefact. Designing is creating on site.

Develop an industrial artefact. Designing is experimenting off-site.

Develop a generic artefact. Designing is modeling.

Tool

Mnemonic means (archetype), possible drawings exposing the solution in principle to the sponsor.

Means of physical tests, realistic models, possibly technical schema relating to a single domain (kinematics, hydraulics, electricity, etc.).

Abstract models that can be used by several trades and in different fields, possibly encoded in software.

Community

The Master, his team of assistants or apprentices, the sponsor.

Experimental designers.

Multidisciplinary teams of designers involved in a common project.

Rules for community coherence

Sharing of the same archetype and verbal interactions, on site, between actors involved.

Sharing of the same design site: the design office, the service of the methods. Transactions with a distant manufacturer, going through detailed plans (counter logic).

Coproduction, sharing and circulation of abstract models between teams in the presence or at a distance.

Work division

The Master directs the activity of the team, ensures the finishing of the final artefact. His assistants or apprentices realize the details.

Taylor's Division of Labor on the basis of disciplines (mechanical engineering, electrical engineering, etc.) or trades (product designer, Methodist, test manager, etc.).

Work divided from codified processes.

Process

Design by producing the final artefact as soon as possible. This artefact consists of a variation of an archetype.

Design by producing as soon as possible a realistic model of the final artefact. The process is exploratory and empirical.

Designing by developing as soon as possible the models of the abstract artefact from which the concrete artefacts (the solutions) will be generated. The process is supported by prescriptive models that are also generic.

Result

A final adjusted artefact.

Useful plans for mass production of the final artifact.

Generic models from which to initiate the design of many concrete solutions or processes.
In that sense, we have to consider objects modeling, which is the base of BIM. But project modeling and requirements modeling (product and process requirements about information exchanges) have also to be considered in all type of projects (INCOSE 2015) and through IDM and BIM uses for infrastructure projects (buildingSMART 2017; Kreider and Messner 2013). As we will see later, these three modeling objectives have to be connected and consistent with one another. To keep these three modeling objectives consistent, we should identify a methodological approach.
Methods
The advantages of BIM, especially on building project, are no longer necessary to demonstrate: many works have demonstrated, for example in (Burcin and Rice 2010; Fox et al.
2013
; Tolmer and Ribeiro
2017
). Contributing to using BIM in a more efficient way is the goal of our work. The BIM Execution Plan (BEP) should define the appropriate Uses for BIM on a project along with a detailed design and documentation of the process for executing BIM (Penn State
2011
). The BEP has to be consistent with the Project Management Plan. Some elements such as stakeholders or information control processes are considered by these two production management documents. Through BIM uses, the BIM Execution plan describes: (the text in parentheses bellow describes what we propose to implement in our work to describe these constituents of BIM uses)
The considered product requirements (proposition of using system and requirement engineering),

The level of detail of the used information (proposition to verify if actual LOD definitions are sufficient and usable in this context),

The exchange information requirements between stakeholders (experiments based on use cases),

The processes requirements through the definition of workflows (experiments based on use cases).
Beyond the mere digital mock-up, exchanged information has to be defined. To specify these exchanges, we identify two important elements to use project data: the concept to describe the level of detail of information in BIM processes and the definition of product requirements by requirement engineering. They are the elements of our top-down approach: starting from concepts to experiments. We suppose that the concept of level of detail of the used information has to help to define the relevant information modeling to meet requirements. Thereby, system and requirement engineering are applied to the whole project to identify needs about information modeling. We then describe our bottom-up approach, based on domains uses cases to verify our proposal of applying system and requirement engineering to infrastructure project.
Discussion and conclusion
Experts in Egis, working for several years in infrastructure project design, confirm that through these three uses cases, this work cover a large part of the objects composing an infrastructure project (safety, drainage and environmental impact). However, the conclusions bellows have to be validated with more use cases. In fact, there is no evidence that the sum of all the use cases of a project is sufficient to describe all the LOX of all the BIM uses.
Defining these three complementary use cases, we describe a significant part of the product-system for design. We have important elements to define almost three BIM uses and their IDM to answer project operational requirements: acoustic regulation, safety requirement and sizing longitudinal drainage system. Other BIM uses have to be considered to answer other operational requirements and to examine other objects. Thus, it will therefore be possible to evaluate the global conceptual project data model to make relevant the objects, project and requirements modeling. However, it is not necessary to consider all use cases of a project to use BIM in an efficient way. Using requirement engineering as proposed allows identifying critical requirements that have to be considered in a BIM way.
As outlined especially in the drainage use case, these IDM elements has to be implement in existing software to verify that they are able to exchange all this information, according to defined needs, supporter by open BIM standards, mainly IFC (for building but also for road, bridge, alignment or tunnels, currently being finalized) and CityGML. The acoustic studies use case shows typical interoperability problems and loosed information through exchanges and object transformations (MINnD UC 6-1 2016). It allowed to identify these elements and seems to be a relevant approach for several BIM uses of different trades (Tolmer 2016).
Then, we detailed the Level Of Detail concept. We can conclude that existing definitions of LOD, LODt or CityGML LOD are not useful in the context in which we use the concept of level of detail of the information. We show that the question of abstraction (which object has to be modeled or exchanged) is implicitly included in actual LOD definitions. It does not allows to identify relevant information according to product requirements and consequently to BIM uses. Based on this uses cases and the MINnD research project, we propose a combination and redefinition of LOD, LOI, introducing the LOA concept mentioned above. It is the first step to define objects modeling in a proper way. It is also the way to introduce ontologies in our conceptual data model proposal. However, we think that organizing abstraction in levels is not fully relevant. How to say which LOA is more (or less) abstraction than another? It seems to be possible to keep the term of level but without the idea to classify them and to give them numbers. We propose to extend this conclusion to LOD and LOI. Is an object with no geometrical information but with a lot of non-geometrical information more detailed than an object with no non-geometrical information but with a lot of geometrical information? Dimensions defined above to explain concepts included in level of detail of the information have to be explicitly independent.
Then, we summarize the results the top-down approach modified by the bottom-up approach. It shows how the concepts and tools of the paradigm of
abstract design
benefits to the
product-system
and to the
project-system
(Fig.
14
). The
project-system
is the first step for using system and requirement engineering to help to structure information that describe the
product-system.
Use case definition, and consequently BIM use, LOX and requirements definition influence the
project-system
. Requirement engineering and system engineering both benefit to the
product-system
through the
project-system
. It is not possible to use requirement engineering to structure the
product-system
without considering system and requirement engineering in the project processes (
project-system
). It has been demonstrated in our experiments on L2 project in Marseille. This proves the fact that the BIM is first processes and data management and not 3D digital mockup only. But our work has shown that this approach has to be tested in more detailed uses cases and especially on a larger part in a project.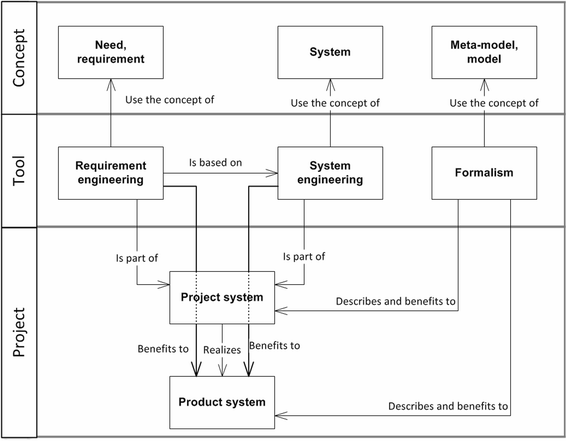 We have to explore others BIM uses that have interfaces with drainage design. Using system engineering should help us to select the relevant requirements to treat it entirely. Coherence in the final conceptual data model will be supplied by the definition of several use cases, covering all the scope of design project needs but also using standardize formalisms (Unified Modeling Language (UML), Business Process Modeling Notation (BPMN, used to provide the capability of understanding internal business procedures in a graphical notation and will give organizations the ability to communicate these procedures in a standard manner1) or Structured Analysis and Design Technic (SADT) for example) and open standards as prescribe by the Model Based Design approach, close to the System engineering. Our proposition, based on system and requirement engineering has to be experienced with other use cases. We treated here only requirements related to the design phase. But it is also possible to consider construction and in operation phases. In addition, as defined in system engineering, our proposition can be apply to the project-system and not only on product-system has we have just done in our early work. In this way, it will be possible to consider process requirements and not only product requirements. This will allow to entirely describing BIM uses content. We identify the main elements of the design product-system. The next step of our work should be to verify that the elements considered in each use case are consistent to describe the whole product-system of the whole project.
Finally, system and requirements engineering seem to be new in construction industry. This tools and methods have to be adapted to our profession. Our profession has also to improve its skills on this subject, in addition to changes, introduced by BIM. Thus, we should prove that this approach allow to treat needs and requirements without missing any. It also has to be combined with standards that make link between objects, workflows, meta-data and requirements as PLCS (Product Life Cycle Support) (Tarandi 2011; Zhang et al. 2013). It seems to be a sturdy standard to manage information around objects and requirements, identified as a relevant way to reach project needs and use BIM in a more efficient way.
Abbreviations
BEP:

BIM Execution Plan
BIM:

Building Information Modeling
BPMN:

Business Process Modeling Notation
CEN/TC 442/WG 2/TG 1:

European Committee for Standardization/Technical Committee 442/Working Group 2/Task Group 1
IDM:

Information Delivery Manual
LOA:

Level Of Abstraction
LOD:

Level Of Detail, or Development, or Definition
LODt:

Level of Development
LOI:

Level Of Information
MINnD:

INteroperable INformation Modeling for sustainable INfrastructures
SADT:

Structured Analysis and Design Technique
UML:

Unified Modeling Language
Declarations
Acknowledgments
The author of this paper would like to thank contributors who participated in this different use cases through MINnD research project and BIM development project in Egis called BIM by Egis.
Funding
This study has been financed by Egis and to a lesser extent by the French government.
Availability of data and materials
Data are not shared. They are protected by industrial secrecy. Only some digital mockup can be shared: they are the modeling of the original data.
Authors' contributions
TC-E: This paper is based on the doctoral work and the recent experimentations in Egis of this author; Writing the paper. CC: Supervised the doctoral work partially presented in this paper; Made substantial contributions and analysis of data; Involved in drafting the manuscript or revising it critically for important intellectual content; Gave final approval of the version to be published. YD: Supervised the doctoral work partially presented in this paper; Made substantial contributions and analysis of data; Involved in drafting the manuscript or revising it critically for important intellectual content; Gave final approval of the version to be published. DM: Supervised the doctoral work partially presented in this paper; Gave final approval of the version to be published. All authors read and approved the final manuscript.
Ethics approval and consent to participate
Not applicable.
Consent for publication
Not applicable.
Competing interests
None of the authors have any competing interests in the manuscript. Two authors participate to the L2 project, base of the described experiments.
Publisher's Note
Springer Nature remains neutral with regard to jurisdictional claims in published maps and institutional affiliations.
Open AccessThis article is distributed under the terms of the Creative Commons Attribution 4.0 International License (http://creativecommons.org/licenses/by/4.0/), which permits unrestricted use, distribution, and reproduction in any medium, provided you give appropriate credit to the original author(s) and the source, provide a link to the Creative Commons license, and indicate if changes were made.
Authors' Affiliations
(1)
Department of Urban Engineering, Paris Est Marne-la-Vallée University, Champs-sur-Marne, France
(2)
Project management department, Egis, St Quentin en Yvelines, France
(3)
EIVP; Lab'Urba Department of Urban Engineering, Paris Est Marne La Vallée University, Champs-sur-Marne, France